The Alabama Cooperative Extension System's 21th Annual Beekeeping Symposium is being held at the Clanton Conference and Performing Arts Center, 1850 Lay Dam Road, Clanton, AL 35045. It will be held on Saturday, February 6, 2015.
Some of the presenters
Dr. Marion Ellis, Emeritus Professor, Department of Entomology, University of Nebraska and Ms. Jennifer Berry, University of Georgia, will present discussions on oxalic acid use for varroa control, as well as other timely topics. As you would expect, a host of other highly qualified speakers ( more than 20) will present topics of interest during the one-day multitiered program.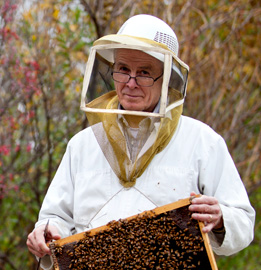 Dr Marion Ellis
The beginner bee program has been enlarged and updated. Mr. Lonnie Funderburg has developed a "stand-alone" session for brand new beekeepers that is informative in every way. The sessions will be in the modern facilities at Jefferson State Community, (Chilton-Clanton Campus). But importantly, participants can mix and match the topics they choose to attend. No one is locked into any level of beekeeping expertise.
Charlie Parton, a professional beekeeper will discuss aspects of Tennessee Beekeeping that relate to Alabama. John Grafton, former Ohio State Apiarist, who presented several years ago at the symposium, will discuss — via video — procedures for eliminating an American Foulbrood infest colony. Dr. Jim Tew will present a overview of extractors and which one you need — for now. These presentations will be shown at specific time in the "Movie Room". Titles and times will be posted outside the Movie Room door.
Special topics will be presented by Ms Nona Hurst, Rockhurst Farm, Floral Design—Using the Plants Bee Love and Mr. Jason Powell, Petals from the Past, Selecting Bee Plants for Your Garden. Topics such as these add to the diversity of the overall program.
Registration is from 8:00 a.m.-8:30 a.m. and the program is from 8:30 a.m. until 3:45 p.m. For those who pre-register, lunch will be provided by the Alabama Beekeepers Association.
Pre-Registration for $35 ends January 22, 2016. At the door registration is $50 per person.
Online Registration is available from November 2, 2015 until January 22, 2016 at:
https://mell-base.uce.auburn.edu/wconnect/CourseStatus.awp?&course=C160206B
For those who want to use the U.S. Mail System, printed registration forms can be downloaded at:
www.aces.edu/home-garden/beekeeping/
Mail to: Dr. Paul L. Mask, ACES, 107 Comer Hall, Auburn University, AL 36849-5635 Telephone: (334) 844-4450; Fax (334) 844-3780; E-mail: chambnc@aces.edu
Mail to: Dr. Paul L. Mask, ACES, 107 Comer Hall, Auburn University, AL 36849-5635 Telephone: (334) 844-4450; Fax (334) 844-3780; E-mail: chambnc@aces.edu
Make check payable to: Auburn University